22 December 2021
HSV opens Victoria's largest warehouse for public health goods
Victoria's largest warehouse for public health goods has opened, marking a key milestone in the transformation of Victoria's health sector supply chain.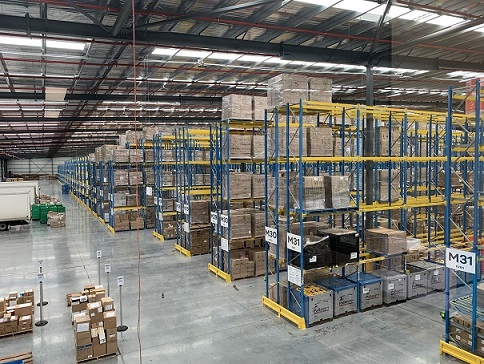 HealthShare Victoria's (HSV's) new Derrimut Distribution Centre (DC) is stocked with more than 2,000 medical and health related goods for our first health service customers from the Royal Melbourne Hospital group.
Key points
HSV's Derrimut Distribution Centre (DC) is Victoria's largest warehouse for public health goods.
The DC is currently stocked with over 2,000 items, taking up just six per cent of the available space.
Stock will increase as supply chain services are expanded statewide in the future.
Incredibly, current stock at the DC takes up just six per cent of the available 24,000 pallet spaces.
"Our new DC is immense and we look forward to filling it to capacity as we expand our supply chain services statewide in the future," says HSV Chief Executive Neil Rodaway. 
"The extra space and the better technology at our new site will mean better pricing for the public sector through larger bulk purchases.
"This project involved the relocation of 50 HSV employees from Tullamarine to Derrimut, but the important things are we made the transition safely without incident and our customers wouldn't know anything is different – we continued to fulfil orders on time and without disruption," he says.
Since taking responsibility for operations on 28 June 2021, HSV has distributed $35 million and 21,600 pallets of goods to health services and identified further savings and improvement opportunities.
While the transfer of operations to Derrimut has taken place as planned, the launch of the new ordering and warehouse systems was delayed.
The next milestone will focus on the implementation of an Oracle Financial Management Information System (FMIS) and Oracle Warehouse Management System (WMS), with the solution design of these additional functions well advanced.
Here are some key statistics about HSV's Derrimut DC:
24,000 square metres, similar in size to the MCG
built in 2016
10 times larger than the existing Melbourne Health Logistics warehouse
10 loading docks – including four recessed and six roller shutter doors
space for more than 24,000 pallets
can hold between 1,500 and 3,000 SKUs (stock keeping units)
can hold up to 9 million individual examination gloves at any one time
houses 14 different types of electric-powered materials handling equipment to be used on site.
For more information, please contact the HSV helpdesk at helpdesk@healthsharevic.org.au or call 03 9947 3900.