21 December 2020
HPV 2019-20 Annual Report now available
HPV's 2019-20 Annual Report has been tabled in the Victorian Parliament and is now publicly available on the HPV website.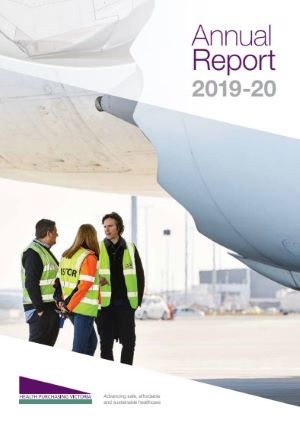 The report sets out our successes in 2019-20, highlighting an extraordinary year delivering $122 million in benefits for health services and $1.16 billion in value under HPV contract.  
In addition to these achievements, the report highlights how HPV's work with the Department of Health and Human Services (DHHS) resulted in unprecedented volumes of masks, gloves, gowns and eye protection as well as ventilator equipment being sourced for Victoria's public health services.  
"HPV played an important role in the Victorian Government's COVID-19 pandemic response, securing about $1 billion in essential personal protective equipment (PPE) and life-saving equipment to help ensure our health system's readiness for the crisis," says HPV Acting Chief Executive John Delinaoum.  
"Collaborating with DHHS and public health services to assist them in preparing for the pandemic has been a distinguishing feature of 2020 for HPV, demonstrating our sector's ability to work together and make a difference in a highly unusual year."   
HPV delivered a variety of PPE into the State Supply Chain over the 2020 calendar year, which saw the range grow to include hand hygiene and other disinfectants, medicines and equipment.  
This year's report cover features HPV Head of Equipment Sourcing Mark Lennen, who played a key role in coordinating HPV's COVID-19 pandemic response effort.